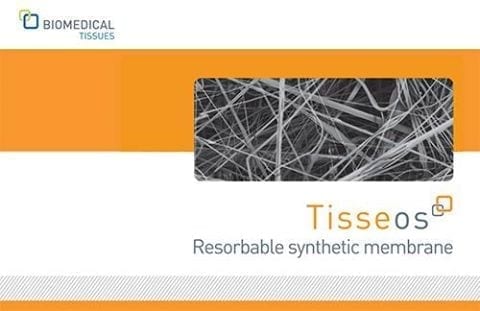 OsteoCare offers an excellent synthetic GBR & GTR solution.
The Tisseos membrane along with the MBCP+ granules allows you to offer your patients a totally animal free alternative for their bone graft. Whether it is a religious or life style preference you can be sure this combination will treat all your patients.
Tisseos® is a bi-layered, synthetic, biocompatible and fully resorbable membrane for Guided Bone Regeneration (GBR) and Guided Tissue Regeneration (GTR) applications.
Intricate, non-woven synthetic microfibers imitate the structure of human collagen and serve as a 3D matrix for early cell colonization and vascularisation. Unlike bovine or porcine derived membranes, Tisseos® is free from animal.
MBCP+™ is a 100% synthetic, cost-effective bone graft matrix used as an alternative to biologic osteoinductive products (autograft,allograft).
MBCP+™ is a 3D interconnected matrix that mimics the trabecular architecture and the thin crystalline structure of natural bone. Its unique manufacturing process provides an optimal permeability for cells migration and angiogenesis. MBCP+™ bone graft will be totally osteointegrated into cortical or cancellous bone of the same mechanical strength at the expense of the synthetic crystals.

For more information or to order, please contact: info@osteocare.uk.com
---